The new cd release for the LSO live label with the Paganini 24 caprices recording describe Simovic's playing as: 'For a recording that is as musically involving as it is technically dazzling, he has few rivals' – The Strad
'This is what is sounds like when a player moves beyond the technical demands of a work and becomes a vehicle for the essence of the music.' – Strings Magazine
'[Simovic] shows the astonishing variety of these works… breathtakingly worthwhile.' – The Guardian
'The whole superb rendition can be listened to for pure pleasure.' – The Times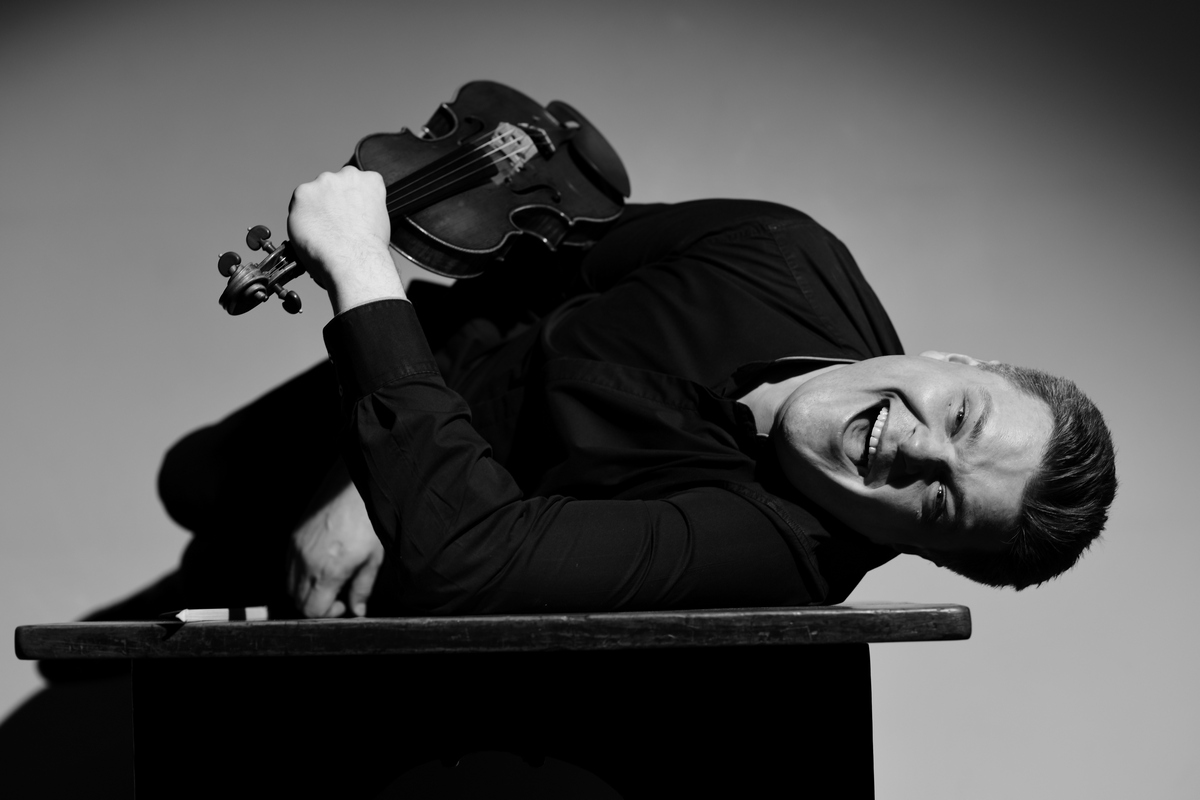 Mr Simovic is serving as a leader of the great London Symphony Orchestra (LSO).
Roman Simovic's brilliant virtuosity and seemingly-inborn musicality, fueled by a limitless imagination, has taken him throughout all continents performing on many of world's leading stages including the Bolshoi Hall of the Tchaikovsky conservatory, Mariinsky hall in St. Petersburg, Grand Opera House in Tel-Aviv, Victoria Hall in Geneva, Rudolfinum Hall in Prague, Barbican Hall in London, Art Centre in Seoul, Grieg Hall in Bergen, Rachmaninov Hall in Moscow…
Roman Simovic has been awarded prizes at numerous international competitions among which are: "Premio Rodolfo Lipizer" (Italy), Sion–Valais (Switzerland), Yampolsky Violin Competition (Russia) and the Henryk Wieniawski Violin Competition (Poland), placing him among the foremost violinists of his generation.

As soloist, Simovic has appeared with the world leading orchestras: London Symphony orchestra, Mariinsky theatre symphony orchestra, Teatro Regio Torino, Symphony Nova Scotia (Canada), Franz Liszt Chamber Orchestra (Hungary), Camerata Bern (Switzerland), Camerata Salzburg (Austria), CRR Chamber Orchestra (Turkey), Poznan Philharmonia, Prague Philharmonia, North Brabant (Holland), City of Birmingham Symphony Orchestra, BBC Schottish Orchestra, Orchestra Reggio della Toscana… And with such a conductors like: Valery Gergiev, Antonio Pappano, Daniel Harding, Gianandrea Noseda, Kristian Jarvi, Jiri Belohlavek, Pablo Heras Casado, Nikolai Znaider, Mark Elder, John Wilson…

A sought-after artist, Roman Simovic has been invited and continues to perform at various distinguished festivals such as the "Verbier Festival", " White Nights" Festival St. Petersburg, Easter Festival Valery Gergiev Moscow, Dubrovnik Summer Festival in Croatia, "KotorArt" Montenegro, the BEMUS and NOMUS Festivals in Serbia, "Sion Valais" Switzerland, Norway's Bergen Festival, "Moscow Winter" Festival in Russia, Portogruaro Festival in Italy, "Granada music festival" in Spain, collaborating  with such  renowned artists as Leonidas Kavakos, Evgeny Kissin,Yuja Wang, Gautie Capuson, Antoine Tamestit, Misha Maisky, Schlomo Mintz, Francois Leleux, Itamar Golan, Simon Trpceski, Janine Jansen, Julian Rachlin…

As an educator, he has presented master-classes in the US, UK, South Korea, Serbia, Montenegro, Israel, Italy. Roman Simovic plays a 1709 Antonio Stradivari violin which was generously given to him on loan from Jonathan Moulds, Bank of America's president. In the 2018 season Roman Simovis released Paganini 24 Caprices for the LSO live label and is planning to release a CD with Tchaikovsky and Glazunov concertos with Gergiev and Mariinsky orchestra for the Mariinsky label.
VIDEO GALLERY